Melaka is renowned as one of the perfect holiday destinations among the tourists, having loads of options to explore and enjoy with family and friends. You shall find the best restaurants, cafés, markets, clubs, various attractions and activities to do in Melaka, etc. that will never let you get bored. Similarly, to relax and help you to refresh yourself, Melaka massage centers are the ultimate spots. Especially on holidays, the best remedy to relax yourself ultimately is to get the best massage services from an expert.
Relax at the Top Class Melaka Massage Center
Though there are a number of Malacca massage service providers, but you have to be cautious in choosing the right one. We have, therefore, made it convenient for you by listing the best ones below. Read on about them to make a wise decision:
Happy Foot Massage
Happy Foot Massage is a renowned Melaka massage center, found in the middle of the city for easy accessibility. The masseuses are from China and Thailand, who are expert and highly experienced in their respective areas. While you are being relaxed with the best massage techniques, you can listen to your favorite songs on headphone or watch television. The massage center has single and double rooms for body massage and also a big room for people coming in groups.
The massage techniques used are proven and hence, provide a high level of comfort to visitors. You can choose from Traditional Thai Massage, Traditional Chinese Massage, Aroma Massage and Foot Reflexology.
You can visit them between 11:00am – 1:00am at the address: No. 2, Jalan MP15, Taman Merdeka Permai, 75350 Batu Berendam or call for further details on: 06 – 335 2318. You can visit their Facebook page here.
Massa Sutra – The Art of Massage
Massa Sutra is one of the best Malacca massage centers, providing exceptional massage services to rejuvenate your mind and body. Massa is derived from the Arabic word meaning Lifting Up, whereas in Latin and French it means To Stroke, To Feel to Handle. The Sutra is a Sanskrit word meaning A string or thread.
Chris Loh initiated this massage center in Melaka, who is passionate about his work and is keen to share the proven techniques with others the true art of Massage. Massa Sutra was created with the aim to provide best and state of the art massage to visitors, so that they can refresh themselves.
Related Article: Best Spa Services in Melaka
You shall experience an ultimate blend of conventional and retro urban massage techniques, namely Zen Massage and Traditional Thai Massage.
You can reach Massa Sutra at the address 20 Jalan Kubu, Melaka, 75300 or call for more details on +6 016 662 5083.
Read more about Massa Sutra – The Art of Massage.
Scents and Senses – A Touch of Thai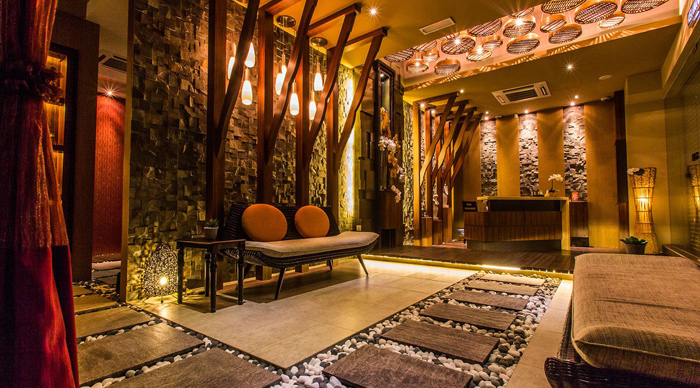 Scents and Senses is an authentic Thai Melaka massage center, using proven traditional technique to relax your mind, body and soul. They claim to be exclusive Thai massage and wellness center in Malacca. The interior of the massage center is out-class equipped with the best facilities, to provide visitors a soothing impact. Also, you can pick from their various spa packages essential for relaxing and rejuvenating.
Get your senses renewed with its exotic services, which include: Traditional Thai Treatment, Thai Aroma Oil Treatment, Herbal Healing, Healing Stone, Wellness Specialized Massage, The True Senses of Thai Spa Foot Reflexology.
You can conveniently reach its main center at the address: 106, 106A, Jalan Melaka Raya, 75000 Melaka.
For more information feel free to call on +606-286 1186 / +6012-682 9633. Also, you can visit its branch office at: 8, 8-1, 10, 10-1, Jalan KSB 1, Taman Kota Syah Bandar, 75200 Melaka.
Kota Lucky
The true Thai massage service providers in Melaka include the name of Kota Lucky as well. It is one of the best Malacca massage centers having well-trained and highly experienced masseurs. It has also attained recognition award for its outclass services from the Ministry of Tourism, which further proves its authenticity.
Kota Lucky's expert massage services include Thai massage, Thai Aroma massage, Foot massage, Manicure & pedicure, Foot treatment and Ear treatment. Furthermore, it is offering Free Herbal Fumigation with Thai massage in Kota Laksmana and Melaka Raya.
You can easily reach it at the address: No 22A & 22A-1, 26 & 26 A-1, Jalan Kota Laksamana 2/15, Taman Kota Laksamana, Seksyen 2, 75250 Melaka, between 12:00 pm – 01-00 am from Monday to Sunday.
You can explore the services offered by Kota Lucky here.
Grand Palace Massage And Reflexology
Since 2005, Grand Palace Massage And Reflexology is serving people in Melaka with authentic and traditional massage services, blended with modern techniques. It has also made strong strategic relationships with healthcare enterprises, to ensure that its customers are served with the best. They specialize in Traditional Foot Massage, Traditional Thai Massage, Thai Aromatherapy Massage, Thai Herbal Therapy, Body Scrub, Ear Candling, Facial, Sauna & Jacuzzi.
Grand Palace Massage and Reflexology has been honored with various awards like 21st Century The Prestigious Brand, Membership of Malaysian Association of Wellness and Spa and etc. Since you enter into the massage center, you shall be welcome with a peaceful ambiance and friendly staff.
You can reach here easily at the address: No. 272,272 A & B, Jalan Melaka Raya 3, Taman Melaka Raya, 7500 Melaka. For more details call on +606 288 2888.
Grand Palace Massage And Reflexology FB
Enjoy your vacations and make yourself relaxed and free from the stress of life. Hope one of the above discussed Melaka massage centers will essentially rejuvenate your entire body, mind and soul.