Melaka Nightlife in the city usually revolves around spending time at restaurants, pubs, clubs and discos. After the sunset, apart from just having dinner, you can just hang out at the famous places in town that remain open even after midnight. If you are after more feisty entertainment, then you need to take your route to Melaka Raya. The choice is all yours either you spend time at the bars of hotels, which is quiet and decent or party around at a club.
What You Would Love About Melaka Nightlife?
The best things about Melaka is that despite being a small place, it has to offer loads of fun and excitement to locals and tourists. Malacca nightlife is famous because you can enjoy drinks and food indoor or outdoor at some of its renowned Melaka cafe, dance on the beats of hip hop and jazz or simply enjoy music all night.
Here we have listed down the top 10 things you can do in Melaka at night. Read on to know about them:
Mixx Club
Mixx Club is renowned across the Melaka city for being the ultimate choice of nocturnal crowd, since its initiation in the year 2011. It is one of the important parts of Malacca's nightlife being a reigning nightclub. One has to make sure that he/she visits this place to party hard. Mixx Club has gained strong hip credibility by assuring that its customers enjoy the beats of the best DJ's and live visuals, ever experienced in the entire Asia.
You might enjoy in the club's exclusive industrial warehouse type interior, having neon lighting that depicts as if the walls are painted with it. The club is basically divided into two sections, one is Arris, which has live bands playing in the garden café and the other is Paradox, where DJ's spin techno and electro beats. However, the drinks offered a bit heavy on the pockets.
You can reach here on the address: Lot S19, 2nd Floor, Mahkota Parade and call for further details on Tel: +60 16-621 5577
Opening Hours: Paradox: Tuesday – Saturday from 22:00 – Late
Arris: Wednesday – Saturday from 20:00 – Late
Visit Mixx Club FB Page
GoGo KTV Lounge – The Jetty
The GoGo KTV Lounge is basically within a jetty, which is actually not a jetty but just seems physically like a one and is hence, not for boats and ships to dock here. However, the reason of its popularity is its Jetty shape. This Lounge is built in between Holiday Inn Melaka and Mahkota Melaka. Don't get confused by the size, this Melaka nightlife spot has lots of punch to offer.
You shall find a number of TVs that are pushed within the walls, which are meant to be placed here for the entertainment of its customers. Get hold of the pint of Tiger, Anchor, Guinnes or Heineken and sing the entire night. You can enjoy the best karaoke tunes at the GoGo KTV Lounge, which are charged per hour.
You can reach here on the address: 12-A, Jalan Syed Abdul Aziz, 75000. For any queries simply call on Tel: +606 288 1788
Opening Hours: Daily 11:00 – 02:00
Visit GOGO KTV Lounge FB Page
Alto Sky Lounge – Hatten Hotel Melaka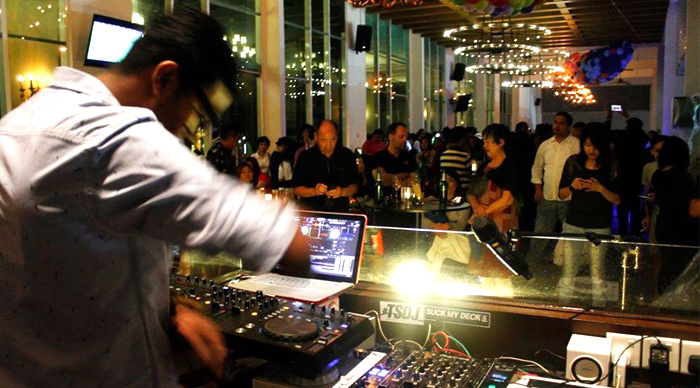 Alto Sky Lounge is found on the 22nd floor of Hatten Hotel Melaka, listed for adding value to the amazing Melaka nightlife. The views from this lounge are highly breathtaking and awesome, presenting a grand view of the entire city. You can enjoy here not so heavy meals, finest wines, special cocktails and exclusive live music.
Alto Sky Lounge has been beautifully designed, providing its guests a pleasant and impressive ambiance. The outdoor bar can accommodate around 130 guests and there is a vintage spiral staircase, which takes guests to its mezzanine level glass wine cellar. If you want to throw a cocktail party, then Alto Sky Lounge is THE ideal place for it. Its luxurious interior and design is surely great for relaxing after a long tiring day. Located in one of the best hotels in Melaka, Alto Sky Lounge is a must-visit place to enjoy a fun nightlife in Melaka.
You can reach here on the address Level 22, Hatten Hotel Melaka and call for more details on Tel: +606 286 9696
Opening Hours: Monday – Friday 16:00 – 00:00
Saturday, Sunday & eve of public holidays 16:00 – 01:00
Visit Alto Sky Lounge FB Page
Hard Rock Café
Hard Rock Café is the place to be, if you need to spend a great time at night. It has been listed among the best Malacca nightlife spots for adding loads of fun and entertainment in the lives of its visitors. It is located just by the side of Malacca River and at night it allures visitors and creates a sense of thrill and excitement to pleasure seekers. The cuisines served are served in generous quantity and good quality, while visitors enjoy great live music. In contrast to other nightlife places, the prices are a bit higher here. However, this café promises to add outclass fun in your time spent here.
The Hard Rock Café's live band, keeps the visitors indulged in their favorite rock music, which is accompanied by a mix of blues and pop. You can conveniently reach here on the address: 28, Lorong Hang Jebat and can call for more details Tel: +606 292 5188.
Opening Hours: Sunday – Thursday 11:30 – 01:00;
Friday, Saturday, eve of public holiday 11:30AM – 02:00 (kitchen closes at 22:30)
Learn more about Hard Rock Cafe
Libar Cocktail House – Jalan Hang Lekir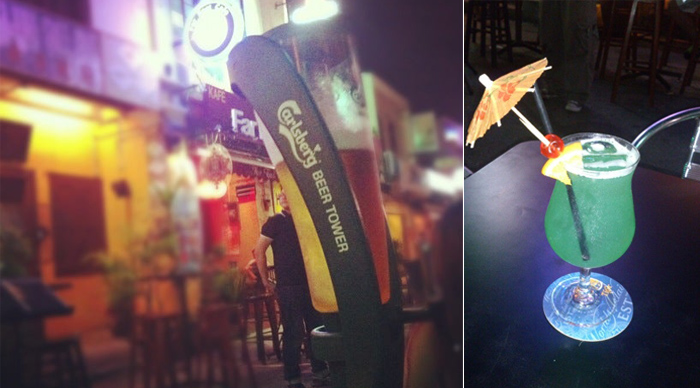 Libar Cocktail House is renowned for having the largest variety of cocktails in the entire Malaysia. Along the Jonker Street Malacca, you shall find this top Malacca nightlife spot, where the sophisticated crowd prefers to spend time. The locals and tourists take pleasure in spending their time at this stylish bar.
After your tiring exploration of the entire Melaka city, Libar Cocktail House is the place to have a great day end, which is easily found in the centre of the town. Have your favorite cocktails with great music in this heavily crowded pub.
It can be reached at the address: 15, Jalan Hang Lekir and you can here for more details on Tel: +6012 222 7718 or +6016 617 1777
Opening Hours: Sunday – Thursday 18:00 – 02:00; Friday & Saturday 18:00 – 03:00
Arena Club – The Jetty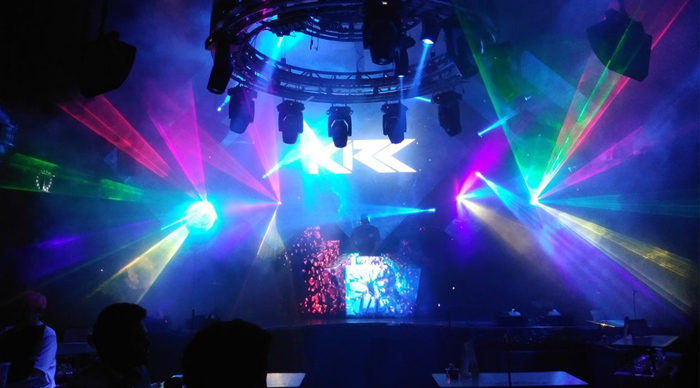 The Jetty is not an original place for boats and ships to dock in, but it is a place where different Malacca nightlife spots are housed in. Arena Club is one of the many most visited party spots, set in with a glass wall and huge stage reserved for live performances. This place is very much crowded on the weekends.
You shall be amazed in its fascinating ambiance, all lightened up with colorful patterned spots and dancing light beams, setting an ideal party mood for you. The music played here is an eclectic mix, entertaining visitors with loads of live band performances, house music, R&B and hip hop.
You can find it on the address: 12-A, Jalan Syed Abdul Aziz and for more information can call at Tel: +6016 675 2000
Opening Hours: 18:00 – 02:00
Visit Arena Club FourSquare Page
Portuguese Square
Portuguese Square came into existence due to the blend of Portuguese and Malay culture, when the descendants respectively agreed on the intermarriages between the two. This has started since the state's colonization. At this Square, you shall find a number of pubs, food stalls and restaurants and specifically on Saturday evenings great deal of activities take place here. Hence, this makes Portuguese Square an ideal Melaka nightlife spot.
The local people come up with their conventional dance styles for entertaining the tourists and to depict their culture celebration. You can take a beer of your choice and spend your night while listening to pseudo-pop bands. You shall definitely enjoy your night spent here and will cherish entire life.
Visit this place at the address: Jalan d'Albuquerque, Off Jalan Ujon Pasir.
For any queries call on Tel: +606 283 6538
Opening Hours: Daily 24 hours
Mr and Mrs Jones Cafe – Jalan Hang Kasturi
Mr and Mrs Jones Café is a well-known name found in the vicinity of Jonker Street and holds a place in the list of top Malacca nightlife spots. You shall get everything that can add value in spending your night here with affordable drinks, comfortable ambiance and superb live music. The owners themselves are resident musicians, who are capable enough to play all sorts of music ranging from rock to blues.
The café, however, does not serve any food, so it is recommended that you come here with something to eat from the eateries, found on the Jonker Street. You shall surely have a great time here.
You can visit this café on the address: 3, Jalan Hang Kasturi and call for further details Tel: +6016 234 4292.
Opening Hours: Tuesday – Sunday 19:00 – 00:00
Visit Mr and Mrs John Cafe FourSquare Page
Reggae on the River – Lorong Hang Jebat
Reggae on the River, just by the side of the river, offering a pleasant and serene ambiance to visitors, is definitely a part of the Malacca nightlife. This places provides its visitors the option to choose from the finest variety and affordable beers and cocktails. You shall enjoy all sorts of music on the river side here, ranging from classics to latest reggae. The dimmer lights and peaceful flowing river add more to your experience. The ambiance is highly relaxing and you can have a great time, after your tiring exploration of the city.
It can be found at the address: 88, Lorong Hang Jebat and can call at Tel: +6012 218 7532
Opening Hours: Daily, 17:30 – 02:00
Visit Reggae on the River FB Page
Epicureo Restaurant, Bar & Lounge
Epicureo Restaurant, Bar& Lounge is another name gaining popularity among the nocturnal crowd. It is found within the Hatten Square. You shall be impressed to see the faded brick wall, wooden bar stools with leather seats, grey cement floor, everything just matching the sports industrial interior. You shall also see wood-barrel tables with an atrium glass roof.
Those who love to eat pork, find this place perfect for them, as the menu includes a wide variety of pork dishes like smoked BBQ pork ribs, roasted pork knuckles and crunchy pork belly, all of them are chef's special, who hold 12+ years of experience. Live band performances, dart playing, draught and many more activities are offered to the visitors at Epicureo.
You can easily visit this place at the address: F2-003, F2-003a, F2-005, F2-006, F2-007 & F2-008, 2nd Floor, Hatten Square Suites & Shoppes and can call at Tel: +606 281 7662
Opening Hours: Daily 10:00 – Late
Hence, because of the so many options, Melaka nightlife is considered the best. The small city does not let its people get bored and adds value to their experience. To recommend a Melaka nightlife activity, please add comments below.