Here in Melaka we tasted food at different points from various stalls and that was really the best food due to being economical with an excellent taste. It has been observed since past that western food in Melaka was said to be one of the expensive eatables because of its quality concerns. Therefore, in the olden days western restaurants were still being impeccably famous and the lists of those restaurants are mentioned as:
Summerfield's coffee shop in the Ramada Renaissance Hotel at JI Bendahara.
Caper's restaurant located towards the Mediterranean side of the Ramada Renaissance Hotel.
A cozy restaurant here that serves their customers with economical steak and lamb chops in Majestic Hotel in JI Bunga Raya.
One of the western restaurants i.e. Restoran Kim Swee Huat prepares packed food for tourists and passersby of which mainly were porridge and muesli breakfast.
We used to easily grab the huge list of delicious drinks and desserts at Tai Chong Hygienic Ice Café situated at JI. Bunga Raya.
Taberna Falal was built in front of the Straits Heritage Hotel was functioning by a Portuguese food that specifically sells real Portuguese food and wines.
Whereas, in current days if you visit Melaka you will generally find the original western taste as it was among golden periods of time which relatively depicts Melaka's beauty as an ancient state.
Western Food in Melaka
There are many restaurants & hotels that offer some of the best western food in Melaka. We have listed down some of the best eateries.
Olio Italian Restaurant
Olio (Italian Comfort Food) restaurant can be easily traced in Ramada Plaza Melaka possessing a European style environment being presented with the delicious Italian food items. The most enjoyable and attractive part of this restaurant is its environment of which this restaurant gains highest points among other restaurants here in Melaka. Its food specialties are termed as variety of seafood including fish items provided with plenty of colorful fruits and vegetables indulged with myriad amalgamation of spices.
Related Article: Top 10 must-try Food in Melaka
Address: Ramada Plaza Melaka, Jalan Bendahara, 75100 Malacca, Malaysia
Phone: +60 6-284 8888
Visit Olio Italian Restaurant FB Page
Bamboo Hut Bistro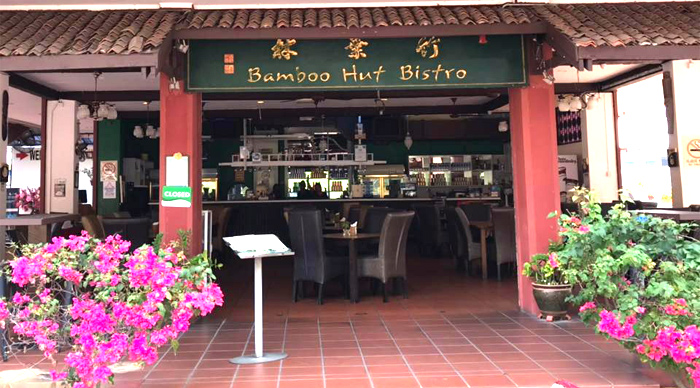 The Bamboo Hut Bistro serves both western and local foods, and it is relatively famous for providing delicious western food in Melaka. Thus, far from being enriching their customers with delicious food items it is someway located on the vivid ancient site which in turn attracts myriad tourists. Such as, the number of tourists served here is almost half and half of them are locals because customers not only visit for enjoying food but also come to enjoy the ancient scenery.
For instance, specialty of Italian food is Funghi Trifolati with sautéed mushrooms on crostini; a simple truffle with an intense aromatic gravy served with toast.
Address: 27, Jalan Kota, Bandar Hilir, 75000 Melaka, Malaysia
Phone: +60 6-282 9282
Visit Bamboo hut Bistro FB Page
The Baboon House
The Baboon House built on the historic Jonker Street in Melaka engulfed with an American style food. As far as the name of the restaurant is considered; the environment here is like we are enjoying food in a real jungle that's why it possesses the highest rating and said to be top most of Melaka restaurants.
Address: 89, Jalan Tun Tan Cheng Lock, Kampung Bukit China, 75200 Melaka, Malaysia
Phone: +60 12-601 0363
Visit Baboon House FB Page
Melaka Heritage Food Street
Melaka's Heritage Food Street with numerous food stalls can be found as you visit Dataran Pahlawan Melaka Megamall for shopping. All type of food are available here western and local both in economical rates i.e. especially created for students, travellers, tourists and many others can simultaneously enjoy food here when carrying less money in their pockets.
Eleven Bistro & Eleven Bistro Restaurant
Eleven Bistro & Eleven Bistro Restaurant is specialized in providing food mostly for evening and night walkers because of its attractive attributes being mostly enhanced in evenings and nights here in Melaka. The type of food being served is a mixture of various ingredients with the originality of Portuguese ingredients. For instance, if we try food by enjoying the lighting's we will definitely be unable to identify its basic ingredient.
Address: No. 11, Jalan Hang Lekiu, Jonker Walk, 75200 Melaka, Malaysia
Phone: +60 6-282 0011
Visit Eleven Bistro Restaurant FB Page
These are some of the recommended restaurants in Melaka offering best quality western food. You can enjoy pizza, pasta, steak or any of your favorite western cuisine from these restaurants. If you want to share your experience of Melaka western food, please add comments below.
Related Article: Best Romantic Restaurants in Melaka